---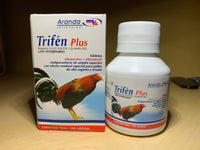 Sale
Dewormer Pills For Stags & Up
TRIFEN PLUS
TABS 
Broad spectrum dewormer residual effect
ARANDA, SA de CV, LABORATORIES
Each tablet contains:
Abamectin

0.2 mg

Albendazole

30 mg

Excipient cbp 1 tablet.
Poultry combat. 

To treat infections caused by gastroenteric parasites including roundworms and tapeworms (Heterakis gallinae and H. gallinarum, Raillietina spp, Ascaridia galli, Syngamus trachea and brushed obsignata).
Treatment of mite infestations as Coruco Ornithonyssus silviarum and lice as Columbicola columbae.
DOSE:
POULTRY: 1 tablet per kg.
ADMINISTRATION: Oral.
If birds are to be used for human consumption, discontinue treatment 30 days before. Do not administer to hens in production. Store in a cool, dry place away from direct sunlight. Keep out of reach of children and pets..