---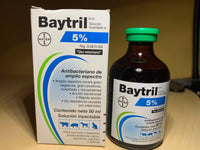 Composition
Enrofloxacin 50 mg/ml
Indications
Antinfective for the management of diseases associated with the following enrofloxacin-sensitive Gram-negative and Gram-positive bacteria: E. coli, Salmonella spp., Pasteurella spp., Bordetella spp., Haemophilus spp. and Staphylococci. Baytril is also effective against Mycoplasma. Due to its broad spectrum of activity, Baytril can be used in single or mixed bacterial infections of respiratory and digestive organs, of the urinary tract, of the skin and of wounds. Please note, that registered indications may be different in each country.
Dosage and route of administration
The dose is 2.5 - 5 mg per kg body weight or 0,5 ml - 1 ml/ 10 kg body weight of the 5% injectable solution. For subcutaneous injection in cattle and dogs, and for intramuscular injection in pigs.