---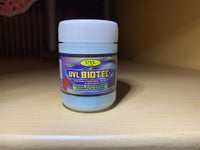 The Formula is designed so that in a single supply you can make sure your action against respiratory diseases is immediate and effective.

For Colds Or Sickness
UVL BIOTEC 100 respiratory antibiotic tablets for chickens. Antibiotic broad spectrum biotech in complicated respiratory problems. Have you tried everything and your chickens do not heal? Try biotec (we recommend giving gel chick to redo intestinal flora). The problem of colds is that they are associated with mycoplasma, e-colli, pasteurela or other pathogens and there where a specialist is required. We recommend biotec + 1micoplasmicida + expectorant, the best formula in respiratory problems. It is also recommended as cleaning therapy in air sacks at the beginning of keep. dose: * In small chicks give 1/4 tablet * In chicks 3 to 6 months 1/2 tablet for 5 consecutive days. * In adult roosters one tablet daily for 5 consecutive days. During the keep: * 1 tablet daily 3 days prior to start of keep.
Finish the treatment to avoid further antibiotic resistance.
Proven... the best should and best results throughout the country against cold