---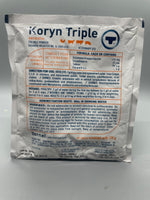 KORYN-TRIPLE is the result of a combination of two different kinds of sulpha and a wide range antimicrobial. The first ones block those enzymes that interfere with the folic acid synthesis in the microorganism; the second, acts at the bacterial DNA level and this is how a very wide bactericide effect is produced. This antibiotic acts over the Gram positive and Gram negative agents; it is rapidly absorbed in the digestive system reaching very high plasmatic levels. It is indicated in order to treat pyelonephritis, dysentery, colibacilosis, gastroenteritis and diarrhea. It can be used for treatments as: respiratory tract: coryza, laryngitis, sinusitis, pneumonia and bronchitis. It also works with gastro urinary diseases as: cystitis, vaginitis and metritis.
Each g contains:
Sulphamethoxypyridacine

125 mg

Trimethroprin

25 mg

Tylosin

30 mg

Excipient cbp 1.0 g.