---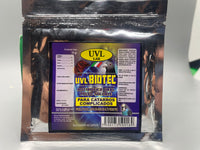 The Formula is designed so that in a single supply you can make sure your action against respiratory diseases is immediate and effective.
The inclusion of an expectorant allows the should to arrive promptly and effectively to the focus of infectacion and the association of a micoplasmicida with two more antibiotics allows to be option number 1 in respiratory diseases.
Dose:
* 1 grams per liter of water for 7 days.
Finish the treatment to avoid further antibiotic resistance.
Proven... the best should and best results throughout the country against colds