---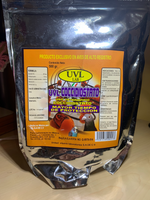 Formulated to have more time clean the flocks of coccidias and stimulates the self-respect of their flock. With Tissue Regenerator and coagulant.
Form of use: 1 GR PER LITRE OF ACUA FOR 5 days.
It is recommended: in roosters when taking care and after deworming, in prvadas over 30 days before starting to see signs, giving every 40 or 50 days to lock them up, in chickens before entering reproduction, In all handling when internally it is recommended to treat UVL immediately after.
Check out your confidence.
COCCIDIOSTATO UVL Powerful formula that allows adequate internal cleaning of coccidia throughout the flock and thus achieve full development. It also helps in the regeneration of intestinal tissue. Immediate action on orange, brown and reddish colored diarrhea. When the birds are internally clean. Also recommended before breeding, before Pelecha, Before grooming to obtain better performance during training Dose: 1g per liter of water 5 days 1 tablet for 3 days In Chicks If a flock of chicks becomes ill with coccidia they probably no longer reach their full development, it is better to be safe than sorry. In chicks 1 g per liter of water is recommended every month for 5 continuous days. In Players and Gallera in General -1 time every 2 months give 1gr per liter of water for 5 days, in tablets, 1 tablet for 3 days. -Before and after the feather change, better feathering, firmer bodies. -Before entering Playback In Roosters in Care and Care: -1 g per liter of water for 5 days. cleaning the intestinal tract is crucial for care, -In tablets, 1 tablet daily for 3 days before entering care to eliminate all types of coccidia that reduce the performance of the bird in combat.