---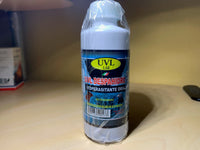 Oral Dewormer That Goes In Water 
"Desparasitec Hydro" powerful dewormer, a specialist against worm and mite that causes dry cough, unique in Mexico with amebicida.
Ideal for chicks from the month of age and adult birds.
Desparasitec Hydro is based on ivermectin which gives it a broad spectrum to combat not only internal parasites, as well as external.

Formula for deworming in drinking water.
Eliminates internal parasite and controls external parasites.

Dose:
* in chicks, it is recommended that 2 DAYS 1 ml of water each month should be used for the purpose of achieving the correct development of parasites.
* ADULT BIRDS RECOMMEND 2 ML PER LITRE OF WATER FOR 3 days to achieve a better effect on adult parasites and stadiums.