---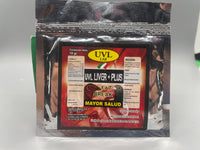 Liver plus is a liberator of toxins in liver, destroys fat, increases productivity in reproduction, facilitates pelecha and increases energy in the care. Contains chromium polyolinate and carnitine .. 
presentation: 
100 grams of powder to give in the diet of birds. 
dose: 
* 2.5 grams of liver plus per kilo of food for up to 15 days. 
* In the food give 2.5 gr daily in the food with a part of sour oats and 3 parts of common food until achieving the required weight. 
recommendations:
It is recommended to use fat birds for weight loss, for use in care and reproduction, to finish faster and higher quality feather, increase egg quality and fertility in reproducer. in birds in its correct weight it detoxifies and increases its productivity