---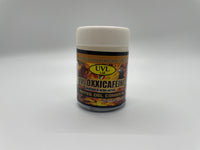 UVL OXXICAFEINE - IMMEDIATE AWAKENING
Wake him up before the match with oxi caffeine more concentration, increases alertness and prevents premature tiredness.
Presentation: 70 Tablets
How to use: 1 Tablet 30 minutes before tying.
It is recommended as an alarm clock to enhance alertness and concentration at decisive moments, it does not give adverse reactions, greater resistance.